The Soaring Cost of a Data Breach Leads to Soaring Prices
August 11, 2022
---
Businesses Are Passing On Record Data Breach Costs to Their Customers
---
No IT professional wants to face the prospect of navigating a business data breach. Unfortunately, many find themselves in exactly that position. A data breach is a costly affair for any company, and that bill only gets bigger if the incident has complications like being caused by a remote worker or if it is ransomware-related. The IBM Cost of a Data Breach 2022 report offers insight into the anatomy and lifecycle of a data breach, including what it costs and how that cost is impacted by certain factors. The report makes one thing very clear: the cost of a data breach is continuing to rise, contributing to higher prices for everyone. 
---
See cybercrime trends & the results of thousands of phishing simulations in The Global Year in Breach 2022. DOWNLOAD IT>>
---
The Total Average Cost of a Data Breach is Steadily Climbing
---
The top finding in this year's report isn't anything that IT professionals wanted to hear. Once again, the cost of a data breach has gone up, reaching $4.35 million this year, an increase of 2.6% from the 2021 cost of $4.2 million per incident, which was at the time the highest ever recorded in the 17 years of the study. The report also takes a look at how the data breach landscape is progressing and the way that cost has evolved over time. 2022's new record high total is even more of a jump in price when compared over two years.  The cost of a breach in a two-year span has risen substantially. This year's data breach costs 12.7% more than a breach in 2020 at $3.86 million, illustrating the constantly rising danger of a data security incident to a company's bottom line.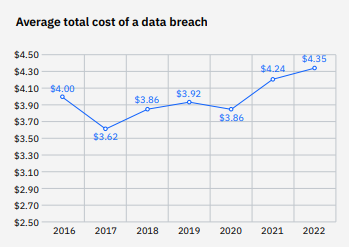 Source: IBM
---
Finding the fix for your security & compliance training challenges is easy with our buyer's guide! GET YOUR GUIDE>>
---
Most Organizations Have Weathered a Data Breach and Then Raised Their Prices
---
Unfortunately, an increasingly larger share of organizations are paying the price of a data breach these days too. The vast majority of IT professionals say that their organization is likely to have a data breach within one year. Making matters worse, for more than three-quarters of organizations in the survey, that won't be their first trip down that road. Analysts estimate that more than 80% of companies have experienced more than one data breach incident already. Only 17% of the organizations that these researchers surveyed experienced their first data breach within the survey period. This finding makes it clear that every business is facing the prospect of a data breach, and the situation is less of an "if" than a "when".
Researchers also discovered that the majority of companies that experienced a data breach raised their prices because of the incident. In today's lean economic times, companies can't afford to absorb the giant budget blow that a data breach delivers. So, they're passing some of the rise in data breach cost that they've experienced on to their customers. Researchers asked if companies were raising prices because of data breach costs, and the majority said yes. An estimated 60% of respondents said they increased prices due to the cost of a data breach and 40% said they didn't increase their prices for that reason. 
---
Learn to identify and mitigate fast-growing supply chain risk with this eBook. DOWNLOAD IT>>
---
Where In the World is a Data Breach Most Expensive?
---
Geography is also a factor in data breach cost. Many things that vary from region to region drive the price up or down like available skilled workers, productivity, currency valuation or seasonal complications. Unsurprisingly, the U.S held on to the top spot for data breach cost for the 12th consecutive year, with an average data breach cost of $9.44 million. That's a 4.3% increase from the $9.05 million a data breach cost in the U.S. in 2021. Also like last year, the Middle East region had the second highest average total cost of a data breach, increasing from $ 6.93 million in 2021 to $7.46 million in 2022, a change of 7.6%. Rounding out the top three, Canada was again the third highest cost country at $5.64 million up 4.4% from 2021.  
There was one big change, although it is certainly unwelcome news for U.K.-based companies. The U.K. climbed the chart substantially in 2022, jumping from eighth to fourth. The average total cost of a breach in the United Kingdom is $5.05 million, up 8.1% from 2021s $4.67 million. In a spot of good news, six of the 17 regions in the survey — Germany, Japan, France, South Korea, Scandinavia and Turkey — saw a decrease in the average total cost of a data breach. The largest relative cost increase occurred in Brazil. While it's 16th on the list at $1.38 million, that was an increase of 27.8% over 2021's numbers. The largest cost decrease was just below it, enjoyed by Turkey in 17th place. The cost of a data breach in Turkey plummeted by 42%, dropping from $1.91 million to $1.11 
The Top 5 Countries or Regions with the Highest Data Breach Cost 
The United States = $9.44 million  
The Middle East = $7.46 million  
Canada = $5.64 million  
The United Kingdom = $5.05 million  
Germany = $4.85 million 
Source: IBM
---
The right dark web monitoring could be the difference between security success or failure. This checklist helps you find it GET IT>>
---
Data Breach Costs Fell in 4 Sectors
---
Data breach cost also varies by industry. The industry with the most expensive breach cost is healthcare. A data breach in that sector is almost twice the cost of the number two industry. The average cost of a healthcare data breach jumped almost $1 million to a record high of $10.1 million, which is 9.4% more than in 2021 and 41.6% more than in 2020.
Behind healthcare, the financial sector came in second followed by pharmaceuticals, technology and energy. The financial industry saw an increase of 4.4% from $5.72 million in 2021 to $5.97 million in 2022. The cost of a data breach in the heavy industrial sector (comprised of critical infrastructure targets like chemical, engineering and manufacturing entities in this report), also ballooned, up 5.4% from $4.24 million in 2021 to $4.47 million in 2022. However, another piece of good news is that the average total cost of a data breach did decrease slightly in four industries: pharmaceuticals, transportation, media and hospitality.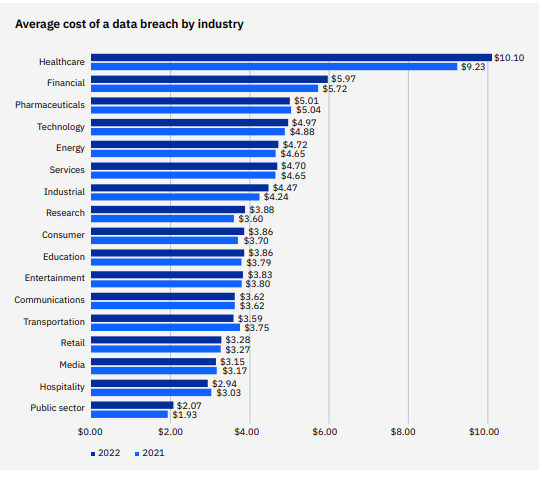 Source: IBM
---
Can you spot a phishing message? This infographic points out red flags to watch for to sniff them out! DOWNLOAD IT>>
---
Reduce the Risk of a Data Breach with Powerhouse Solutions
---
Reduce the chance of a costly data breach and mitigate other cyberattack risks affordably with two battle-tested security solutions that you can rely on.
Security Awareness Training
CISA recently recommended that companies step up their security awareness training programs to combat the current flood of ransomware threats. It's the right move to make – Venture Beat reports that 84% of businesses in a recent survey said that security awareness training has reduced their phishing failure rates, making their employees better at spotting and stopping phishing, the gateway to most of today's nastiest cyber threats.
BullPhish ID is the perfect solution to use to make that happen!
A huge library of security and compliance training videos with 4 new lessons added a month!    
Choose from plug-and-play or customizable phishing training campaign kits    
Automation makes training painless for everyone
Watch Out for Dark Web Danger    
Cybercriminals can do a lot with a compromised credential, like steal data and deploy ransomware. Compromised credentials are easy to obtain on the dark web and they open so many doors. An estimated 60% of data breaches involved the improper use of credentials in 2021.
Dark Web ID is the answer.
24/7/365 monitoring using real-time, analyst-validated data    
Monitoring of business and personal credentials, including domains, IP addresses and email addresses    
Gain priceless peace of mind about dark web dangers 
---
Read case studies of MSPs and businesses that have conquered challenges using Kaseya's Security Suite. SEE CASE STUDIES>>
---
---
---
Our Partners typically realize ROI in 30 days or less. Contact us today to learn why 3,850 MSPs in 30+ countries choose to Partner with ID Agent!
---
Check out an on-demand video demo of BullPhish ID or Dark Web ID WATCH NOW>>
See Graphus in action in an on-demand video demo WATCH NOW>>
---
Book your demo of Dark Web ID, BullPhish ID, RocketCyber or Graphus now!
---
---